Explanation:
Passive FTP (File Transferring Protocol) virtual server mode is extensively use to solve the issue of the client firewall blocking the FTP server data connection.
Virtual Server setting is a platform to configure virtual server on the router to change due to the router with default configuration does not allow computers fron Internet access LAN computer trhough the firewall.
(source: http://blogs.msdn.com/b/mast/archive/2013/12/13/setting-up-a-passive-ftp-server-in-windows-azure-vm.aspx)
---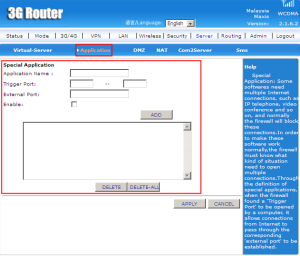 Explanation:
Special Application is defined when the firewall found a 'Trigger Port' to be opened by a computer, it allow the connections from Internet to pass through the corresponding external port to be established.
---
Explanation:
DMZ (Demiliterized Zone) is a physical or logical subnetwork that contains and exposes an organization's external-facing services to a larger and untrusted network, usually the Internet. The purpose of a DMZ is to add an additional layer of security to an organization's Local Area Network (LAN).
(source: https://en.wikipedia.org/wiki/DMZ_%28computing%29)
---
Explanation:
One-to-One NAT (Network Address Translation) is a way tp make systems behind a firewall and configured with private IP addresses appear to have public IP addresses.
(source: http://shorewall.net/NAT.htm)
---
Explanation:
This Sms service is provided by a server to inform the user and messaging a text.